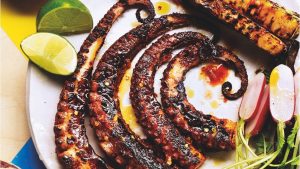 Octopus
Mexican Octopus known as red octopus (Octopus maya) is endemic to the fishery in the Gulf of Mexico. Caught using the traditional method called "jimba" or wooden poles that have several hanging baited lines attached (typically six or seven) baited with crabs or fish.
This fishing method catches almost exclusively octopuses, so there are no bycatch concerns.
The Mexican, octopus is known worldwide for its unique firm texture, sweet rich flavor, tremendous yields, and its large sizing. Excellent quality as a result of the premium raw materials obtained from artisanal fisheries.